Deb Pierce McCabe, MA, LMP, RDT/BCT
I am a Registered Drama Therapist and a Board Certified Trainer in Drama Therapy.  I am also a playwright and a Licensed Massage Practitioner. I offer trainings and workshops for therapists and advocates, to help them bring powerful interactive techniques into their work with clients. I also offer private consulting sessions, and facilitate groups and readings for agencies. Interactive techniques help people to listen deeply, express themselves more effectively, practice setting boundaries, recognize power plays, and develop confidence and compassion.
Background
I have worked in schools, hospitals, treatment programs, prisons, businesses, and in private practice. I have also worked with survivors of domestic violence.  My play, Rule of Thumb, based on the true stories of survivors, toured for three years, as an outreach project for women at risk, and a training piece for therapists, attorneys, and police officers in order to help them to identify power and control tactics of abusers. Rule of Thumb is available for performance, or as a reading with discussion. A contract is required for use of the script.
I have served on the board for the North American Drama Therapy Association, and I teach and mentor students who are working to become Registered Drama Therapists.
What is an RDT, or Registered Drama Therapist?
The RDT credential is a Master's level or higher credential, requiring coursework in psychology, drama therapy, experience in theater, and a supervised internship as well as work experience.  RDTs are board certified in the practice of drama therapy and follow a Code of Ethics established by the North American Drama Therapy Association.
Drama Therapy
Drama therapy is the intentional use of drama and theatre processes to develop social skills or achieve therapeutic goals.  Drama therapy is active, engaging, innovative, and can be a lot of fun.  Scene work, dialogue, movement, improvisation, and role reversals are some of the techniques we may employ.  Dramatic ritual or theatre games help symbolize change and significant moments in a client's life story.  The rehearsal process can help them to prepare for real life events. These techniques can be powerful catalysts for change and resolution.  Interactive drama unlocks the creativity of the mind, the felicity of the spirit, and the language of the body.
Training, workshops, groups, and consulting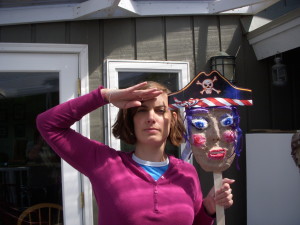 Classes and groups take place in a confidential environment where people can explore different ways of expressing ideas without fear.  This allows people to practice dialogue, and delivery skills until they are confident and natural.
Private consulting sessions at Stages of Healing can help you to respond to difficult people or situations with poise, humor, integrity, and self-respect.

Spare me the drama!
Not all interactive tools require acting or drama!
Some activities are simple games, rituals, or discussion starters.  Other interactive tools use sound, movement, or dialogue. Participants can engage at their own level of comfort.  Some of the games are very engaging and light-hearted, and these can help clients move more comfortably into the deeper work.

Safety
When we work together in a class, workshop, or group session, we create a safe space in which to practice.  We do this by establishing ground rules for conduct and confidentiality.  In the dramatic rehearsal space, you are free to say and do things differently than how you normally act.  The space serves as a safe container for our thoughts and feelings, and a laboratory for discovery and practice.
Benefits
Interactive exercises such as movement, dialogue, and drama can illuminate the obstacles and personal choices clients face in their life and relationships by allowing them to become observers of their own stories. Recognizing a problem situation is only the first step toward healing and recovery.  Problem solving ideas can be explored in a guided rehearsal process, which can help clients to develop a broader repertoire of responses to these challenges; and to prepare for the scenarios they face in real life. These are just a few of the many profound benefits of interactive work.  Boundaries, compassion, rapport building, respect, poise, power, kindness, peace making, and forgiveness can all be explored and practiced through guided interactive techniques.