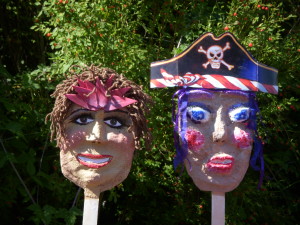 One of the indicators of good health, and a good life, is the ability to express joy as well as sorrow.  Likewise, the ability to express and accept love and respect, the ability to give and receive compliments, and the ability to play and have fun.
Here are some additional offerings from Stages of Healing to help heal the heart, and things which you or your clients can do to feel better right away.
Affirmation Circle:  a facilitated group activity for 12-40 people, where participants give and receive affirmations
Ceremonies: I will lead or help you to develop any of the following:
Closure ceremonies, for those letting go
A circle of quiet, for those grieving
Freedom celebrations, for those starting over
Playing With Power/Winning with Kindness
Find Your Voice, Heal Your Heart
Learning to Say No
Building Connections

Resources:
Unfinished Dialogues:  short scripts which lead players into improvisation and help them to think on their feet in a conflict scenario.  Each kit contains two scripts for the players/actors, and instructions for the facilitator.
Book one is in English and French.  Book two is in English, and is geared for adolescents.
Feel Better Now:
Here are some simple tips for actions to take and words to say to help you and others feel better, if you are dealing with some family grief, difficult conversations, or just feeling blue. Two ideas below for feeling better now, and a list of words you can say to yourself or a loved one, without judging them, when there is a difficult situation going on.  These are very simple steps and words, but of course if you are in danger, get help right away.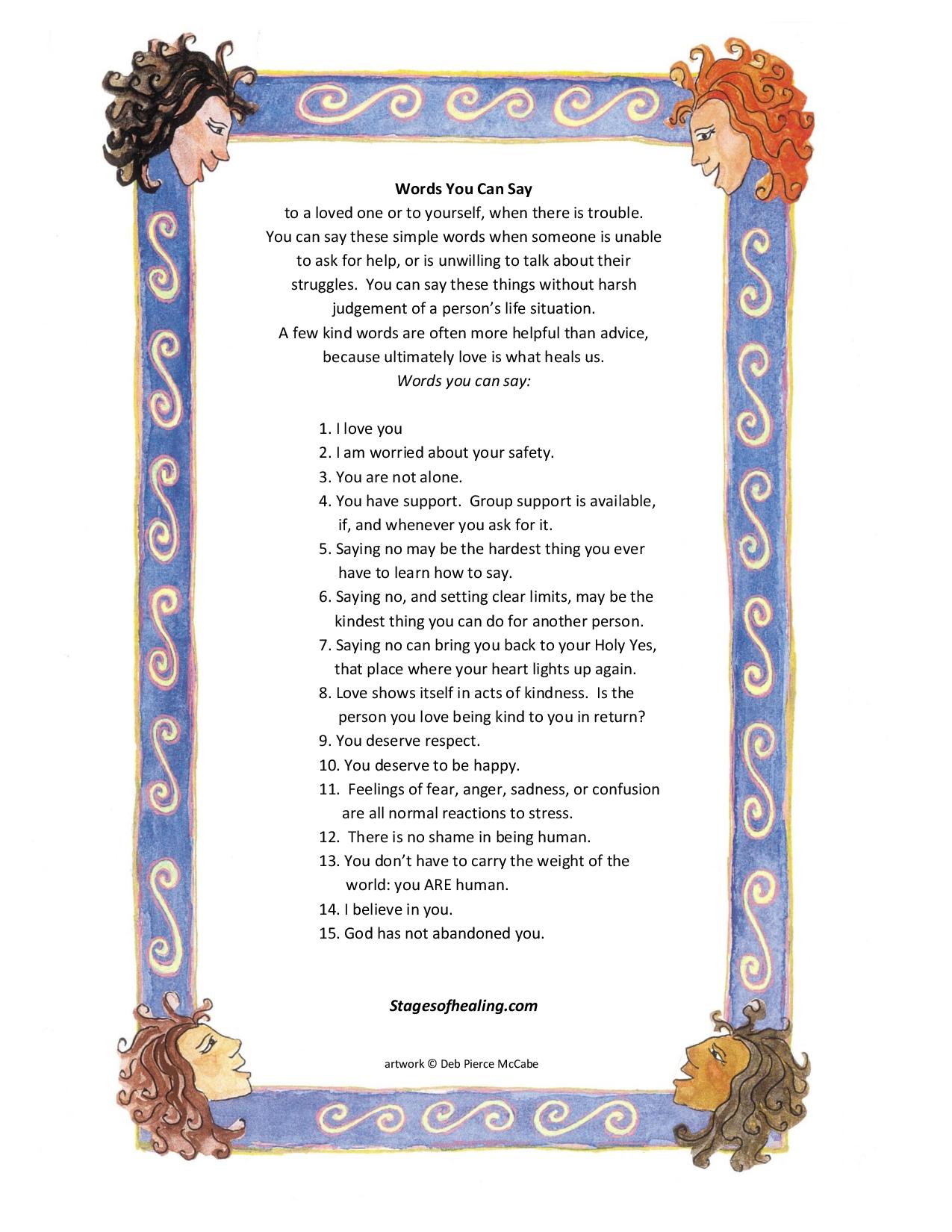 Here are two things you can do right now to feel better.  And it's free!
1) Pray for someone other than yourself.
If the word "pray" bothers you, then use a different term– but the point is to think kindly about, remember, and bless other people.  In fact, there are many people you know who need kind thoughts and blessings sent to them right now.  Take some time to think of them, picture them at peace, feeling happy or joyful, feeling well, safe, and content.  Or any other positive feeling or circumstance they might need.  Be creative, and stay positive:  be a blessing to this person, or these people.
2) Make the decision to forgive someone from your past
Don't do this too quickly! Don't do it in person, even. Don't condone bad behavior, and don't try to re-connect with toxic people.  Just in your mind and in your heart, set yourself free. I don't believe in forgiving too soon– I think it is phony, and sometimes it is downright dangerous.  But remember the saying about holding onto anger and resentment:  doing that is like drinking poison, hoping the other person will die!  Just release them, instead. Don't do it for them, even, just do it for yourself.   Make a decision that at some point, maybe not even today, you are going to let go. Breathe a sigh of relief that you don't have to carry that resentment around forever.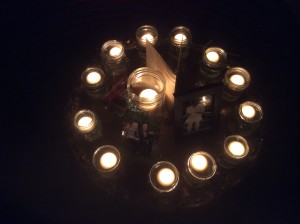 Prayers from A Circle of Quiet ceremony, December 2014
Cost of services and written materials:
Massage and Reiki: $75/hour, table massage
Massage with essential oils: $100-130 per session
Gift Certificates available
Individual consultation/coaching: $60 – 90 per session
Prices for classes, workshops, ceremonies, and special events vary by location & size of group
Groups/classes for a 6 hour day for local non profit agencies, $600 minimum plus travel expenses
Drama Therapy coursework, starts at $375, varies by location
Affirmations, $1.00 each or $5.00 per week
Scripts: contract required for Rule of Thumb, contact Deb for more information
Donations accepted for Rule of Thumb project
Liturgical drama scripts for churches, $5.00
Unfinished Dialogues: $39.00 per kit (each kit contains two scripts)
To set up a free demonstration in Puget Sound locations only, or a private consulting session: Contact Deb