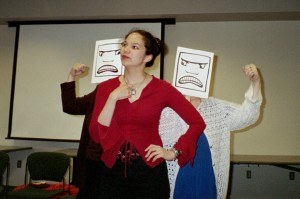 Introduction
You may know someone like Rachel.  She's a bright, articulate young woman with two small children, who would never have described herself as a victim of domestic violence—until the night her husband pulled a knife on her and threatened her life.  When she told him she was going to call the police, he ripped all the phones out of the wall. Rachel's survival is a true story.  It's one of 15 different women's stories woven together in Rule of Thumb.
Rule of Thumb is a one-act play about domestic violence, which focuses on the behavior patterns and psychological games abusers play in order to maintain power and control in the relationship before and during the time that abuse may escalate to violence. It tells the story of 5 women in various stages of recovery and separation from their abusive partners.
Rachel, like many women, didn't recognize these patterns of abuse until her life was threatened.  When women see these stories come to life, they begin to recognize their own stories and struggles.  Recognizing the problem is the first step to solving the problem.
Performance guidelines, goals and contract
Rule of Thumb is available for readings or performances– at no cost!  The goal for this project is to reach women at risk and to educate attorneys, counselors, police officers and others about the nature of abusive relationships before the bruises.  Performances are intended to support the work of agencies which support or shelter survivors of domestic violence and their children.
This one-act play based on true stories runs for approximately one hour.  There are five women characters, of different races and backgrounds, ranging in age from approximately 25 to 75.  The play is set up as a support group, and the viewing audience is welcomed by the cast as potential members of the group.  There is no "fourth wall", therefore, and the actors deliver their lines directly to the audience as well as to each other.  The set consists of five chairs and a box of props– including simple masks, a 50 foot power cord, a box of chocolates, a box of tissues, a basket with five round pillows in shades of pink, orange, and red, and a red blanket. The performance is extremely portable and can be presented in classrooms, conference rooms, or on a stage.  It is meant to be an intimate experience for the audience, and the actors make eye contact with them throughout the show.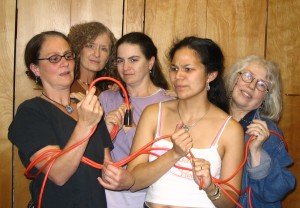 The script may also be used as a reading in a support group. There should be five readers for the five different characters, and a facilitator (a trained advocate) who is familiar with the script, to assist the readers and lead the discussion after the reading.
Contract
There is no cost for use of the script for a reading or a performance, but a written contract is required.  If the script is used as a performance, a printed program which contains phone numbers and websites for local and national support agencies for survivors must be made available to the audience.
Performances must also include a post-play discussion with the audience, facilitated by a trained advocate from an agency supporting survivors of Domestic Violence or Sexual Assault.   Additional requirements are listed on the contract.  For a copy of the contract and other information, Contact Deb.
Comments from audience members after seeing Rule of Thumb:

"When we got home after seeing Rule of Thumb, my husband turned to me and said:  'I've been verbally abusive to you.'  Since then I have noticed a big difference in how he talks to me, especially when we disagree."
"This show was a 10!  You really nailed it!  It portrayed so much of my own experience.  Wow.  I lived through those same things.  It was great to have these experiences validated."
"As a man, it really made me look deeply at the ways in which I am controlling my partner.  A very powerful piece.  I'd love to see this shown on PBS!"
"Thank-you for doing this.  Seeing this show was the best gift I have had since I got out of my abusive marriage.  Please keep it going—so that other women can get this."
"I really want to help get this word out to other women.  I have just gone through some of this myself—and it is really important that women understand what is happening to them." 
"Seeing your show helped me to decide to move on with my life.  Thank-you so much."
"Excellent. Debunks many stereo-types regarding domestic violence & abuse.  It made me cry & laugh and very glad I left my abusive relationship 3 years ago."  
"This is the best thing I have ever seen at a conference.  THANK-YOU!"
-therapist who does training events around the country
"It was perfect!  Let's put it on video tape and hand it out on every street corner!"
"This was very powerful.  It should be done for the men in the batterer's treatment groups, because it calls them on all their stuff—it would bring them right to the brink."
-therapist who works with batterers
"It's a jewel."
-attorney who works with survivors
Excerpts:
Opening
RACHEL:  (stepping forward) In 1824 a judge in Mississippi upheld a ruling in this country, which allowed a man to beat his wife.  The law was based on British Common Law, which stated that while it was permissible for a man to beat his wife, he could not use anything to beat her with that was bigger around than his thumb.  This is where the expression "Rule of Thumb" came from.
*      *      *      *      *      *
When I told him he was hurting me….
RACHEL:    When we first started fighting I thought OK, we're having problems.  We can fix this!  We just needed to communicate better.
OTHERS:  Right!
RACHEL:  But when I told him he was hurting me….
CATHY:  When I told him he was hurting me….
ANN:  When I told him he was hurting me, he said…
SHEILA:  He said—"Yeah, right—I'm really hurting you."
ANN:   "I'm not hurting you!""
CATHY:  "Oh, please!  This isn't hurting you!"
RACHEL:   "Oh, yeah, like I'm really hurting you!  Why don't you call the police, you stupid bitch?"
*     *      *      *      *      *
The twist game:
ALL:  YES!  It's ALL YOUR FAULT!!!   (they all throw the pillows at Ann)
RACHEL:  (pulling Ann DC with her) If you hadn't gone to see your mother, then I wouldn't have started using all that porn!
SHEILA:  (spinning Ann around to face her) If you had cooked me a decent meal, I wouldn't have thrown the plate at you!
RACHEL:  It's the TWIST game! (Cathy pulls Ann upstage out of the way. Rachel locks both hands with Sheila and they spin and X  L,)  I was late coming home from work one night—back when I was still working that is—and when I walk into the house he says:
SHEILA:  Where the hell have you been?  I know you're having an affair!  Who is it?
RACHEL:  Nothing I could say would appease him.  I found out later that HE was the one having the affair—
SHEILA:  (Sheila raises her hands in victory)—TWIST!
RACHEL: — he just twisted it all around!